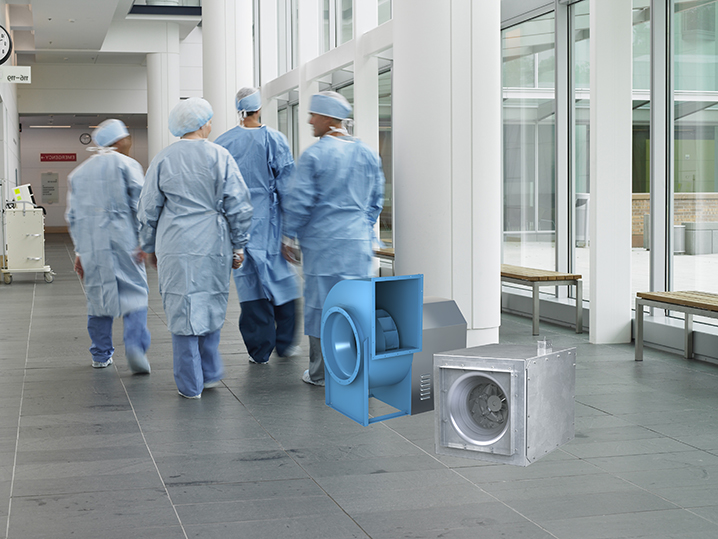 Commonly used fans for hospital applications
Your Partner in Fighting COVID-19
We are here for you. At Aerovent, we are stocking up for filter applications in overflow hospitals to be fully prepared to meet the needs of this global pandemic. As an essential business, we are committed to remaining open and ready for business by operating all of our manufacturing facilities throughout the country to rapidly respond to healthcare customers' urgent fan orders for COVID-19 projects.
By offering one of the most comprehensive industrial and commercial lines of fans in the air movement industry, we are able to manufacture our fans quickly for countless purposes including:
Field Hospitals: Our Model SCDD and Model BIUB fans are used to create a negative pressure in the rooms. They are commonly combined with a HEPA filter component.
ICUs in Hospitals
Arena Conversions
Laboratories
Urgent COVID-19 Project Fans Already Shipped
– Bowling Green Medical Center – an urgent replacement fan for an isolation room was ordered on a 5-day QuickShip program. They were grateful that we were able to provide this essential equipment.
– A Minneapolis hospital where rooms tested positive with COVID-19. Our equipment will be used to create negative pressure in the patient rooms. These fans will be combined with a HEPA filter system.
– Allegheny General Hospital in Pittsburgh, PA – an application in an isolation room related to the coronavirus. We supplied a Model BIUB Utility Set on a 5-day QuickShip coming out of Mitchell.